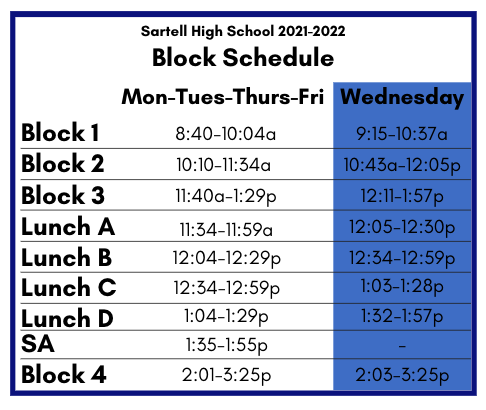 Home of the Sabres!
A MESSAGE FROM THE PRINCIPAL

Welcome to Sartell High School!

Our work at Sartell High School is grounded in creating an environment that values all members of the school community. Our teaching staff is highly educated, experienced, and student-centered. Each staff member is committed to building strong relationships with all students while providing diverse, challenging, and engaging educational opportunities.

I ask all members of our school community to be Sabre Strong! Sabre Strong is an acronym that is ingrained in all areas of SHS. It stands for Safe, Accountable, Brave, Respectful, and Engaged. We are committed to building a safe, inclusive school community. Students and staff are expected to show each other respect and are accountable for their work and actions. We value student perspectives and strive for an environment that fosters collaboration and communication. At the same time, we work to inspire students to be brave and challenge themselves to try new things and intervene when situations arise that violate school and community expectations. Some of the best educational experiences come from learning how to persevere and grow through a mistake. Finally, we want students to be engaged in their high school experience. We offer a wide range of rigorous and relevant courses in twelve content areas and expect students to give their best effort in their coursework. Sartell High School offers a broad slate of athletics, fine arts, co-curricular activities, and clubs for our students.

I am honored to serve as the Principal of Sartell High School. As a school, we are committed to educating the whole child and strive for all students to have a positive, stimulating, and fun high school experience. The communities of Sartell and St. Stephen provide tremendous support for our academic and extracurricular programs. We are proud to partner with both communities to enhance the educational experience for our students and welcome alumni back to our school community to share their professional experiences with our current students. Once a Sabre, always a Sabre!

Thank you for supporting Sartell High School!

Last Modified on April 27, 2022