Return to Headlines
Cross Family Donates Property to Central MN Habitat for Humanity
In case you missed it: start out 2022 with a THANK YOU to Bethany & Ryan Cross for donating property to Central Minnesota Habitat for Humanity so that Sartell High School's first Habitat home could stay in the ISD 748 community!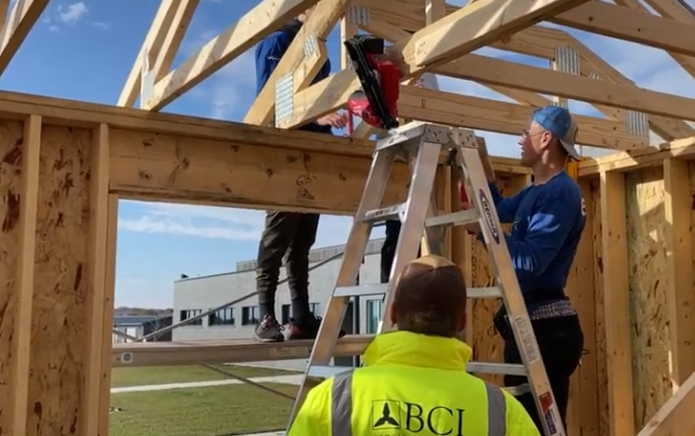 Learn more by reading:
Habitat for Humanity Gets Lot Donated for Sartell Home Build
WJON
December 13, 2021
Students build, company donates land for Habitat house
Sartell Newsleader
December 24, 2021
Central MN Habitat for Humanity Receives Local Land Donation for First Home Build Project with Sartell High School
Local business owners donate residential lot for Habitat home in support of trades education
Central Minnesota Habitat for Humanity received a donation of a residential land parcel in Sartell so that the first-ever home build collaboration with Sartell High School will stay within the Sartell-St. Stephen ISD 748 community.
Ryan and Bethany Cross, co-owners of local BCI Construction, donated an empty lot they owned in their Sartell neighborhood so the 6-bedroom 3-bath 2,112 square foot bi-level house being constructed by Sartell High School Construction program (SabreCON) students may be moved to its permanent location in the spring of 2022.
The Crosses are proponents of learning through tangible experiences and thinking beyond themselves. "Skilled tradespeople are a vital asset in our community and workforce," said Bethany Cross. "SabreCON does a fantastic job engaging students in our local community to see the benefits of a career in the skilled trades. We are grateful for the opportunity to support the program as well as Central MN Habitat for Humanity."
About the Donation
The biggest challenge for the new partnership between Central MN Habitat for Humanity and Sartell High School came after the house had begun to take shape at the high school; the original property in Sartell where the home was to be moved fell through. After weeks of looking for a suitable replacement, it seemed the only option was to move the home outside of the Sartell community. Joe Schulte, SabreCON Instructor, mentioned the lack of available real estate to Ryan and Bethany Cross at a community event.
The Crosses quickly determined that the opportunity to donate an empty lot they owned in their Sartell neighborhood would likely be a perfect fit. The half-acre wooded lot is nestled in an established neighborhood, which would be ideal for a family home, and the hip-roofline on the SabreCON bi-level will complement the adjacent properties.
About the Cross Family
Ryan and Bethany Cross are part owners of BCI Construction, Inc. in Sauk Rapids, where Ryan is the President and CEO. BCI employs about 50 construction professionals who build and remodel private and public commercial, medical, industrial and institutional buildings throughout Central MN. Over the past several years, BCI's vision has been increasing its focus on local projects to ensure a healthy work-life balance for employees and truly invest in the community. In addition to donating the lot, BCI has donated time and expertise.
Bethany is an attorney at Rinke Noonan in St. Cloud practicing real estate, estate planning and business law. Ryan and Bethany are raising their four children with the values of teamwork, problem solving and collaboration. Ryan and Bethany spend the majority of their free time supporting their children's activities, whether through coaching, volunteering, driving or cheering.
"We are invested in our community, and this opportunity aligns with our family values beautifully," said Ryan Cross. "Our family is able to support our local community and help in educating skilled trades people, who are vital to our community and our workforce. As an added bonus, we can also help a family with a hand up as they invest their time, education and sweat equity into a solid start to homeownership."
About Central MN Habitat for Humanity
Central MN Habitat for Humanity is the General Contractor of the project and has been building and selling homes for over 31 years, and they have been partnering with local high schools, colleges, and youth organizations since 2015 for School Build projects. Their vision is to ensure everyone in Central Minnesota has a decent place to live at a price they can afford.
The Executive Director, Chad Johnson, is thrilled with the project. "This donation will have a generational impact on the Sartell Community. This will help countless students prepare for promising careers in the trades, help the city of Sartell gain affordable housing, and provide a local family stability and self-reliance through affordable homeownership."
To support this project or future SabreCON Habitat homes, email Joe Schulte or email Chad Johnson, Executive Director of Central MN Habitat for Humanity.