August 18, 2022
Feeding Area Children Together: FACT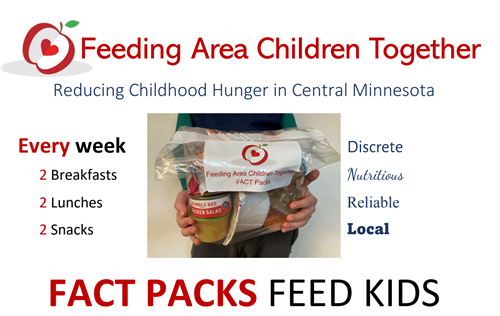 FACT, a nonprofit founded by four parents from the St. Cloud District, provides meals free of charge to K-8 students who are in need of food on weekends and over school breaks. Signing up means your child will receive a FACT Pack (one-gallon zipper bag) that contains child-friendly, non-perishable breakfast, lunch and snack each day school is not in session during the 2022-2023 school year.
FACT Packs are delivered to students at school
No income requirements to enroll
Serving students in grades PK-8
Peanut-free and contain no pork products
Child-friendly and easy to prepare meals
Locally funded, locally run 501(c)3 non-profit
Bags are packed by volunteers and delivered to schools. This is NOT a government program; all food and supplies are paid for by donations from individuals, foundations, and businesses. All information is confidential. All bags are placed DISCREETLY into your child's backpack on Fridays or the day prior to school break.
Please click here for a flyer and enrollment form. Questions? Please contact your building's Student Support Services team.